MicroPanel
Contents
uPanel is an avionic device for Flight Simulator 2004 and Flight Simulator X. It is an "All In One" remote command for radios, EFIS, MCP designed to work initially with the Boeing737, using FSUIPC. Code and hardware licence is General Public Licence.
The goal of the uPanel device is to provide quick access to functions that need to be clicked, for example, the MCP, radio frequencies setting or Gear lever and indicators.
It is based on OnePanel first experimentation and feedback.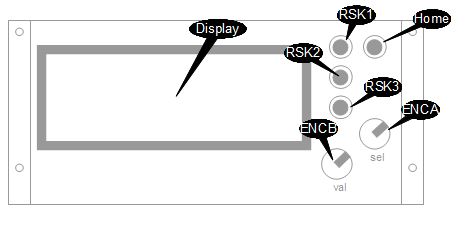 Main evolutions are:
Based on Arduino popular and cheap boards
Easy to build
Connected over network
As OnePanel, uPanel is cheap, fully user configurable.
Features
uPanel driver runs on Windows (tested on winXP SP3). It is written in Java, to be fast and easy to maintain. Access to Fligt Simulator variables is provided by an IOCP compatible server (SIOC from opencockpits.com for example) over the network.
Radio Tuning Unit allow radio frequency direct tune and EMIT/RECEIV selection,
Mode Control Panel allow Flight Management System functionnalities quick access,
Performances display gross weight, external temp and pressures.
Saitek Pro Flight Multi Panel
Saitek Pro Flight radio Panel
VRInsight MPanel
uPanel
Instruments and functionnalities
Real time indicators
Yes
Yes
Yes
Yes
Full autopilot
Yes
No
Yes
Yes
Auto throttle
Yes
No
Yes
Yes
Flaps
Yes
No
Indicator
No Indicator, text value
Trims
Elevator only
No
Yes
Yes
COM1,2
No
Yes
Yes
Yes
NAV1,2 and DME
No
Yes
Yes
Yes
ADF1,2
No
Only 1 ADF
Yes
Yes
XPDR
No
Yes
Yes
Yes
Landing gear control and indicator
No
No
Yes
No indicator, text value
OMI indicator
No
No
Yes
No
Performance manager
No
No
No
Yes
Aircraft integration
Support of FS liveries
Yes
Yes
Yes
Yes
Additional liveries
Depends on provider support
Depends on provider support
Depends on provider support
Yes, user configurable
How to add Aircraft
Unknown
Unknown
Unknown
by XML file, fully documented
API, source code
No
No
No
GPL licence
Support and price
FS supported version
2004, X
2004, X
2004, X
2004, X
Interface
USB
USB
USB
USB
Price
130 Euros
130 Euros
130 Euros
80 Euros (lot of recycled)
Roadmap
You can subscribe sourceforge RSS feed to have real time update on source code commits. Roadmap and releases content are managed by the bugtracker.
Building uPanel
uPanel is based on Arduino Leobardo board, and is plugged in USB port.